Citizens who do not have a settled residence in Thailand have the possibility to get married in front of the Thai authorities, at the district Registry Court. Marriage in Thailand is possible for couples in which one partner is foreigner, and for couples in which both partners are foreigners, as well. The stages that must be completed are the following: getting a celibacy declaration translated into English form the embassy; translating it into Thai at a local translation office; legalizing the translation at the Thai External Business Ministry; presenting the documents and the identity documents by both partners at the Registry Court. All needed information should be requested at a lawyer office, so that there are no surprises and no time is wasted.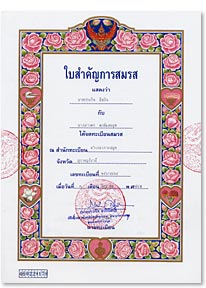 If one partner is divorced, a copy of the definitive judicial decision must be translated into English and legalized at the embassy. After the marriage certificate is released by Thai authorities, it can be registered at the right institutions from the foreigner's native country.
Necessary documents for registering the marriage certificate released by Thai authorities are: the certificate original (the Thai copy and the English translation), the couple's identity documents, their birth certificates and the English translation of the Thai citizen's birth certificate. All these documents are super-legalized at the Thai External Business Ministry.